Opinion: State legislative staffers should make a living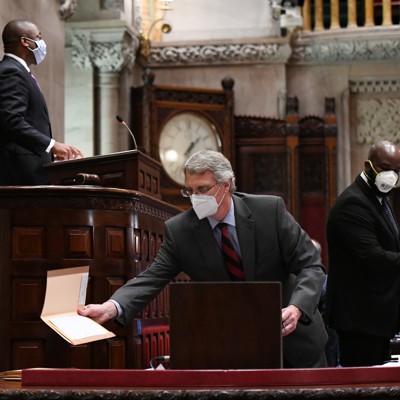 With the "big quit" underway, rising inflation, and the first unionizations at two Starbucks locations in Buffalo, we are witnessing a long-awaited national debate about job quality and wages. This debate should not be limited to the private sector. To build the public sector we need, it should extend to our public servants here in New York State, including legislative staffers in Albany.
The successful unionization of New York City Council staffers was driven in part by the absence of a salary floor, allowing near-minimum salaries, and the same low salary exists for assistants to state legislators. With a new legislative session just beginning in Albany, Governor Kathy Hochul, state Senate Majority Leader Andrea Stewart-Cousins ​​and Assembly Speaker Carl Heastie are expected to take the lead. to create a more equitable, diverse, and better-functioning state government by increasing the salaries of state legislature staff.
This proposal is not just about paying bureaucrats a living wage. It is also a question of opening access routes to the public service to people from all communities served by state government – ​​and improving efficiency and ethics in government.
The amount of aid paid is currently at the discretion of each legislator. While some elected have made every effort to pay reasonable salaries to junior staff, limited office budgets mean that any increases for some staff must be offset by lower pay for senior staff. This constraint makes it more difficult to retain or necessitates the hiring of fewer staff members overall, which would reduce the ability of legislators to build their office's expertise and be effective representatives of their communities.
On the publicly available database of state employee salaries, there are several hundred full-time employees who earn between $25,000 and $35,000 before taxes. These low salaries undoubtedly prevent many potential civil servants from entering politics.
We write as leaders of a New York-based progressive group thinking group which strives to bring more people with lived experience of the issues they work on into positions of political leadership. Having people from the communities most affected by the policy – including those whose families cannot subsidize their wages with financial assistance – in government positions that set the agenda will create better policy that responds better to the needs of all New Yorkers.
The state has already taken steps to expand public service pathways for people of color and those from low-income backgrounds. In accordance with the recommendations of the main defense organizations such as Pay our internsthe State Senate and Assembly internship programs, a frequent route to public service, are paid. And the Empire State Scholars Program offers a pathway to leadership positions in the executive branch, although it is limited to graduate school leavers with several years of work experience.
The state has already found ways to make becoming a legislator more accessible. The salary has recently increased to the point where lawmakers could reasonably pay rent in both their hometown and Albany, unlike other states. And just as public campaign finance in New York led to increased diversity among its elected officials, a similar system will extend to the entire state from the 2024 election cycle.
As leaders go, so should the staff. The Governor, State Senate Majority Leader and Assembly Speaker should pass legislation that sets a salary floor for legislative staff members that would allow someone to live on, pay off student loans , make car payments, and start an achievable long-term career in public service. And the legislation should increase staff budgets for elected officials, ensuring that fair compensation for all staff does not limit or reduce the ability of members to pay senior employees more or maintain current staffing levels.
Even a significant increase in the personnel budget would be a rounding error when considering a state budget that exceeds $210 billion. For example, increasing the personnel budgets of each of the 150 Assembly members and 63 state senators by $75,000 and $150,000, respectively, would cost nearly $21 million. This small investment could be found in the general fund during this year's budget negotiations and would reap dividends in a government that better reflects and better serves all New Yorkers.
It's easy to be cynical about the idea of ​​government officials paying themselves more. But the reality is that these actions will serve us all by bringing in a more diverse set of staff, improving government expertise and preventing rapid turnover. There are numerous reports on low pay for congressional staffers has led them to flee to lobbying shops, and thus undermine effective governance.
These steps alone will not create the thoughtful, responsive government we need. They should be coupled with intentional recruitment and hiring of staff across government that reflects the diversity of New York State. Leaders in particular must expand existing pathways to these jobs through SUNY and CUNY, both of which have public policy programs that create a solid educational foundation.
A higher salary does not preclude improving job quality in other ways. New York City Council staffers have complained about abuse by their supervisors, long hours and unpaid overtime. And after revelations about former Governor Andrew Cuomo, we know that this toxic atmosphere, especially for women, has also been pervasive throughout Albany. Wage increases must be accompanied by clear policies that will require public reporting on wages and pay equity, as well as other measures to improve working conditions, including simple and safe ways to report harassment or the misconduct of co-workers and supervisors.
Given that legislative aides can progress quickly through their teams and tend to have considerable influence given the small staff size of elected officials, making the talent pool more inclusive has the potential to produce a new generation of leaders. policies that better reflect our communities. across the state. It is an opportunity for heads of state to lead, advance equity and enhance the effectiveness of state government.
Emma Vadehra is the executive director and Daniel Edelman is the associate director of the progressive think tank Next100.