Healthcare bidding war escalates as Coalition releases workforce plan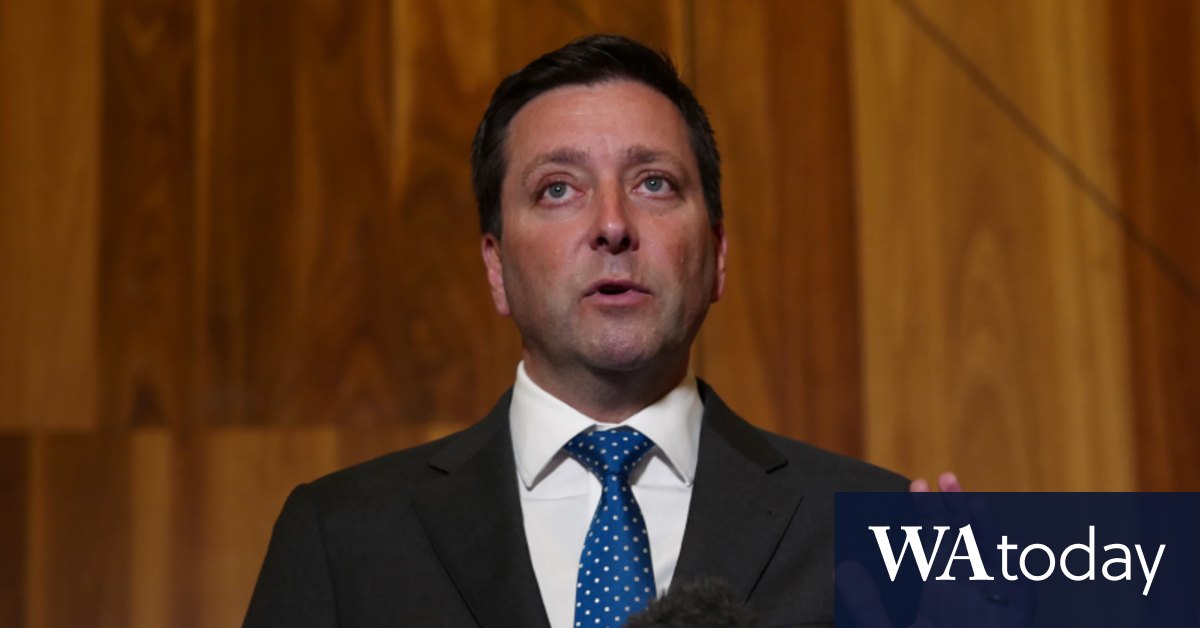 The state already needs 65,000 additional health and community care workers over the next three years to meet demand and replace those retiring, according to a skills plan released by the government in August.
In addition to labor shortages, even in existing hospitals, there are questions about how the proposed new facilities would be staffed and constructed, with labor shortages in health sectors and construction, in addition to supply chain issues, particularly in the regions.
Guy said the health pledges would be delivered without new taxes or additional debt, paid for by suspending the first stage of Labour's Suburban Rail Loop project. The state's contribution to the first stage of $34.5 billion is about $11 billion, with the rest coming from the federal government, private investment and value capture.
The Coalition's plan includes 25,000 scholarships worth $16,500 each for nursing and midwifery students – 20,000 for public health positions and 5,000 for the private health sector – and 10 000 scholarships for existing nurses and midwives to enhance their skills with fully paid postgraduate and specialist training. It also proposes to immediately recruit 5,000 new nurses and midwives, both by funding retraining fees and by creating a new visa subcategory for international health workers.
If the Coalition is elected, it would also establish a Victorian Health Workforce Ministerial Council which, among other tasks, would carry out a statewide public and private sector audit to inform the mix of newly funded roles.
Loading
The Australian College of Nursing praised the Coalition's workforce policy, saying it represented good future planning.
"The health personnel are exhausted. They are beyond tired, they are beyond stressed and they are beyond exhausted," said Kylie Ward, chief executive of the nursing school.
"They have been working under duress for several years now, so I welcome any commitment that recognizes the nursing workforce and the impact of working as tirelessly and under pressure as it has."
The Victorian Healthcare Association, which represents Victoria's public health service, also welcomed the release of the policy, saying many of its promises matched what it had claimed.
"It's great to see so many sensible policies on the table to help our public health services retain and attract more health care workers, and train future health care workers," said the deputy chief executive. Juan Paolo Legaspi.
He said the shortage of healthcare workers was the biggest problem affecting Victoria's public system. "Every public health department in Victoria is trying to find workers to provide essential services to their communities," he said, with the state competing with other states and territories, the UK and the New Zealand for workers.
Opposition Health Spokesperson Georgie Crozier is a former nurse, midwife and diabetes educator who also worked in executive recruitment in health and biotechnology before joining in Parliament. She said the Coalition's workforce plan would provide a modern healthcare workforce.
"We recognize the importance of nurses working in both the public and private system. This is a comprehensive plan that revises how health personnel will be trained and supported using existing experience and knowledge within the health system.
The Victorian Healthcare Association said age this week that it was unclear how the parties decided which projects to pledge money to and why. He wants to see a more transparent process for benchmarking the benefits of major hospital infrastructure deals, similar to Infrastructure Australia's Priority List, which lists unfunded projects of national importance, many of which are transport projects.
The Morning Edition newsletter is our guide to the most important and interesting stories, analysis and ideas of the day. register here.